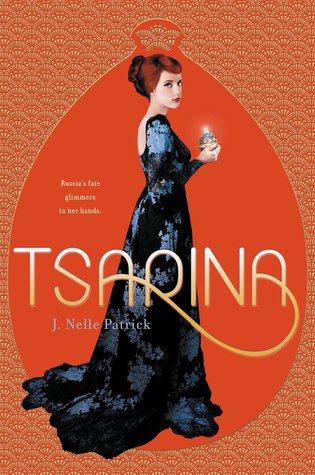 Rating: ★★★★☆
I really enjoyed this book. Like I said previously, I am entranced by the Romanov family, the revolution, everything. This book did not disappoint, but there were some inaccuracies that had me confused and retracing my perceived notice of the revolution. The main confusing bit (possible spoilers ahead) is that Alexei, the future tsar, died in 1917,when he was thirteen, but in this Tsarina, he's like seventeen but everything basically happens as it did in 1917. It's never stated how old Alexei is, but our girl Natalya is seventeen and if (a not-so-spoiler but just in case) they're an item, they have to be close to the same age right?
Any who, the author's note explains that the history surrounding the story is essentially true, even if the main characters that were real people stories are somewhat inaccurate.
Here's the summary, via Goodreads:
Natalya knows a secret.
A magical Faberge egg glows within the walls of Russia's Winter Palace.
It holds a power rooted in the land and stolen from the mystics.
A power that promises a life of love for her and Alexei Romanov.
Power, that, in the right hands, can save her way of life.
But it's not in the right hands.
Like I said, I enjoyed it. I thought Natalya (protagonist) and her friend Emillia were particularly well written characters, not just high-society girls that could do nothing more than complain. They were useful even when taken out of their comfort zones. There were other characters (especially the main bad-ish person Maria) that could of been developed more, and not just used as a way to make the plot carry forward.
There was only the tiniest bit of the Romanov family, which was really unexpected. I figured they'd plan more into it then just being talked about. Maybe that's just my wistful longing for more Anastasia and Co. Rasputin could have been played up too, now that I think about it. He was mentioned all the damn time, but only in connect to the egg and how much he lusted after Alexandra. He was actually fairly important to the development of another character, and I think discussing him could have helped fleshed out that other character's back story.
I liked this book. It was quick. It featured stuff I like. It dealt with Leos (coughcough I'm a leo), Russia, mysticism, and romance. I'd definitely recommend it.