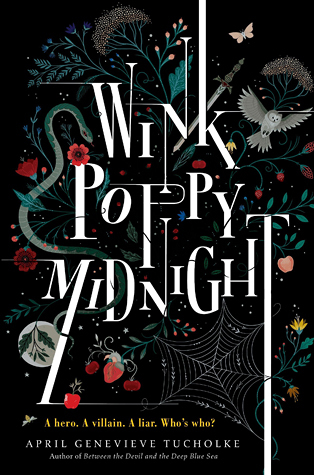 This novel was weird. Like imagine Lana del Ray singing at an Adams Family Reunion kind of weird. It was haunting.
It was annoying, too. We never find out what the MC's real name is, she is just simply called River because that's the name she calls herself in her head. Quite honestly, the whole book is about 'River' fangirling over a family of maybe witches. It reminded me of Twilight.
The summary from Goodreads:
Every story needs a hero.
Every story needs a villain.
Every story needs a secret.

Wink is the odd, mysterious neighbor girl, wild red hair and freckles. Poppy is the blond bully and the beautiful, manipulative high school queen bee. Midnight is the sweet, uncertain boy caught between them. Wink. Poppy. Midnight. Two girls. One boy. Three voices that burst onto the page in short, sharp, bewitching chapters, and spiral swiftly and inexorably toward something terrible or tricky or tremendous.

What really happened?
Someone knows.
Someone is lying.
Like? I read this novel a little while ago, and I didn't post the review because I could not think of anything positive to say. The writing itself is good, but the story sucks balls, man. The cover is pretty.
So… yeah.
Sold on Amazon ($6.99) here.