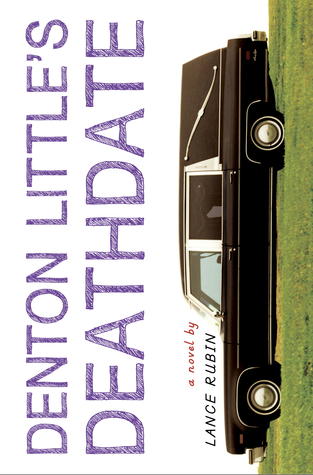 *The book was provided free by the publishers though Netgalley in return for an honest review.
Pub. Date: April 14th 2015
4.5 stars of 5 ★★★★★
Death can be weird. What with having to attend your own funeral, having everyone sitting around waiting for you to die, not to mention that sometimes you only get seventeen years, death can be a real downer. For Denton Little, a normal life is all he wants, but because science has provided the world with deathdate prediction technology (which is 99.99% accurate), Denton's life has always been shadowed by his looming demise. So when the time comes to face the final countdown, Denton accepts his lot and tries to make the best of things.
…but then things start to get weird. Mysterious doctors appear, secrets about his dead mom bubble out, horrible grandpa cops start making trouble, and a weird rash/virus appear on Denton, his girlfriend, his best friend, and his best friend's sister. The once calm Denton starts to question his serenity about death. Here's the summary:
Denton Little's Deathdate takes place in a world exactly like our own except that everyone knows the day they will die. For 17-year-old Denton Little, that's tomorrow, the day of his senior prom.

Despite his early deathdate, Denton has always wanted to live a normal life, but his final days are filled with dramatic firsts. First hangover. First sex. First love triangle (as the first sex seems to have happened not with his adoring girlfriend, but with his best friend's hostile sister. Though he's not totally sure. See: first hangover.) His anxiety builds when he discovers a strange purple rash making its way up his body. Is this what will kill him? And then a strange man shows up at his funeral, claiming to have known Denton's long-deceased mother, and warning him to beware of suspicious government characters…. Suddenly Denton's life is filled with mysterious questions and precious little time to find the answers.

Debut author Lance Rubin takes us on a fast, furious, and outrageously funny ride through the last hours of a teenager's life as he searches for love, meaning, answers, and (just maybe) a way to live on.
This book was hilarious, entertaining, and interesting. The characters were one dimensional, but the story was very original, and honestly refreshing, because it's nothing like the other *don't trust THEM* type books out there. It's by a male author, so there's an attempt at making this into a "dude read". I would definitely recommend this book to lovers of quirky reads.